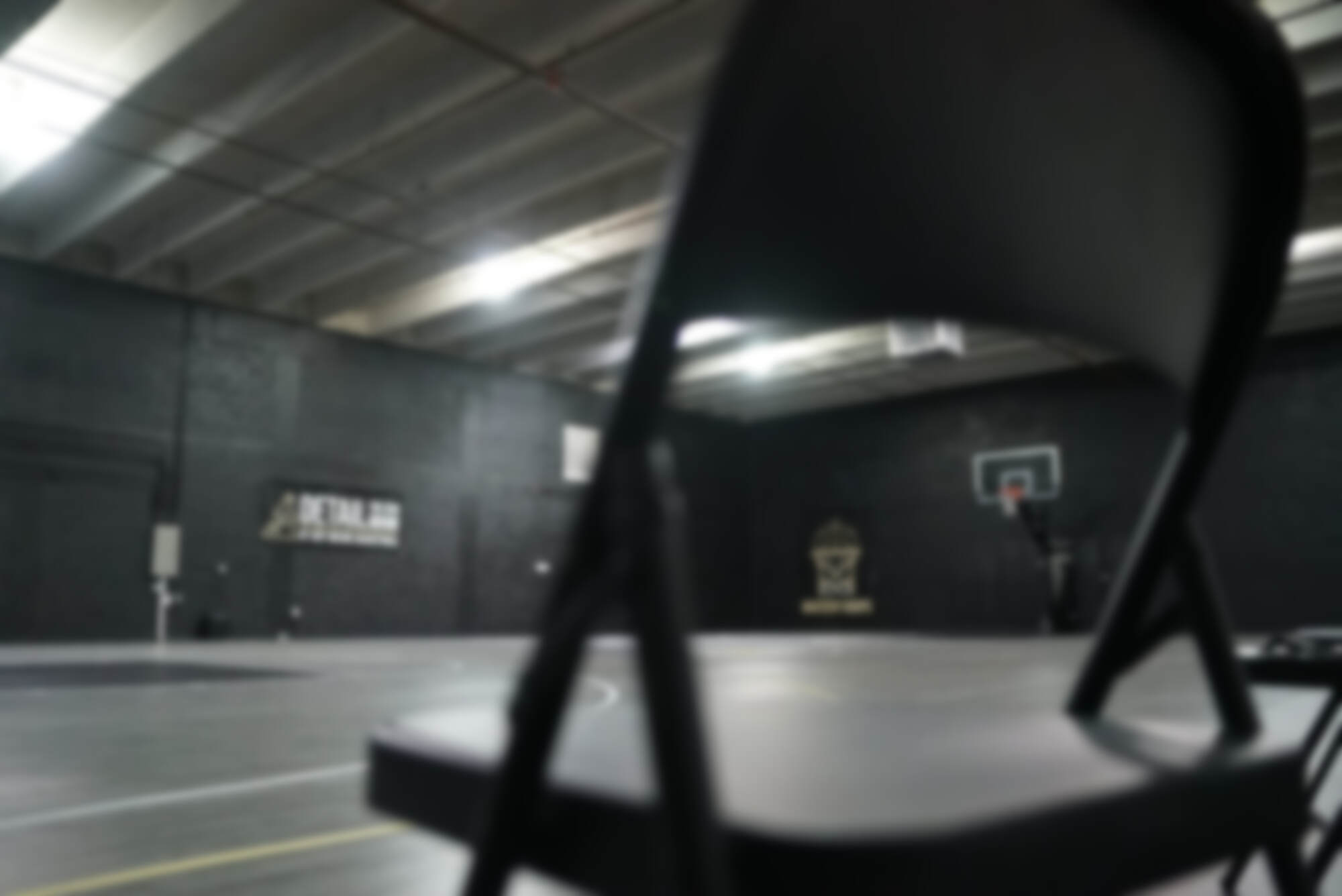 INTENSIVE SUMMER CAMP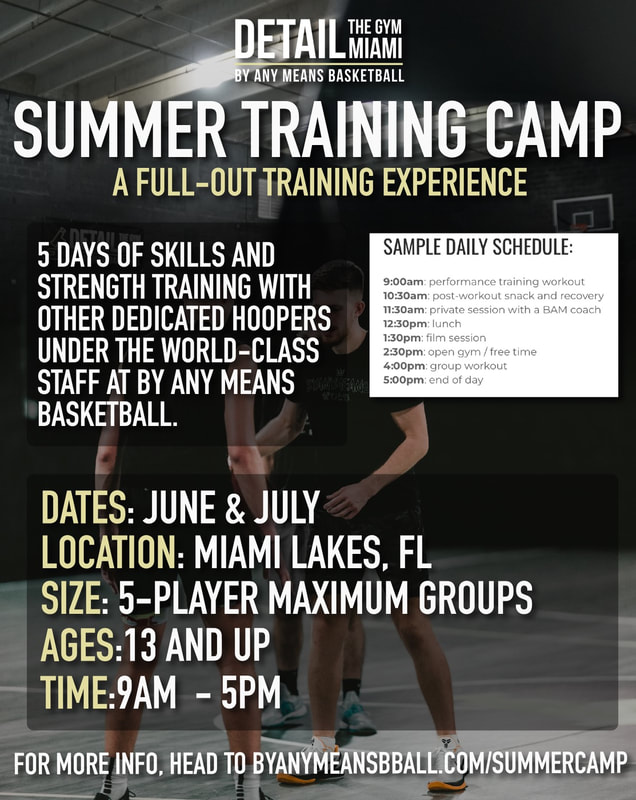 THIS ISN'T YOUR AVERAGE SUMMER CAMP.
Everything we do at By Any Means Basketball and DETAIL Miami is focused on giving hoopers the most immersive training experience possible. Our Summer Academy/Camp reflects just that! Athletes will get the full training experience, from group and private skills training, to strength & conditioning workouts, to recovery, film breakdown sessions, yoga, and much more!  ​Because each athlete is, we're only accepting 5 spots each week. We want this to be a smaller, focused group where athletes can lock in for a week and take their game and mindset to the next level. All ages 12 and up are welcome, but we have options for younger hoopers as well! Please contact us for more info.
WHAT THE ATHLETES GET:
2 private training sessions per week.

3-4 group workouts per week.

5 performance training sessions per week.

Daily film sessions and basketball IQ work.

Summer academy t-shirt.

Media (video content, photographs, and more).

Healthy food (additional cost).
SAMPLE DAILY SCHEDULE:
9:00am: performance training workout 10:30am: post-workout snack and recovery 11:30am: private session with a BAM coach 12:30pm: lunch 1:30pm: film session 2:30pm: open gym / free time 4:00pm: group workout 5:00pm: end of day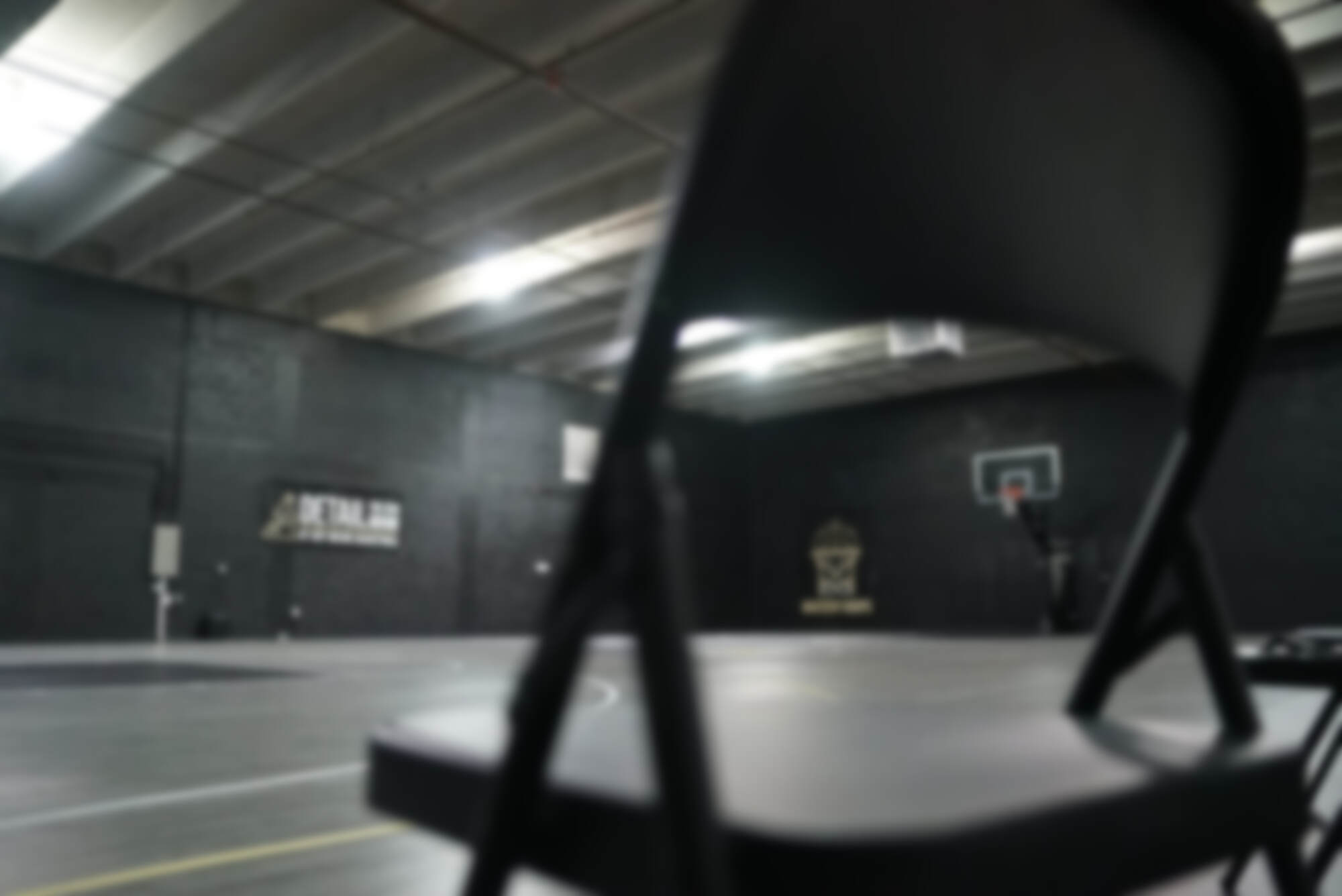 3V3 LEAGUE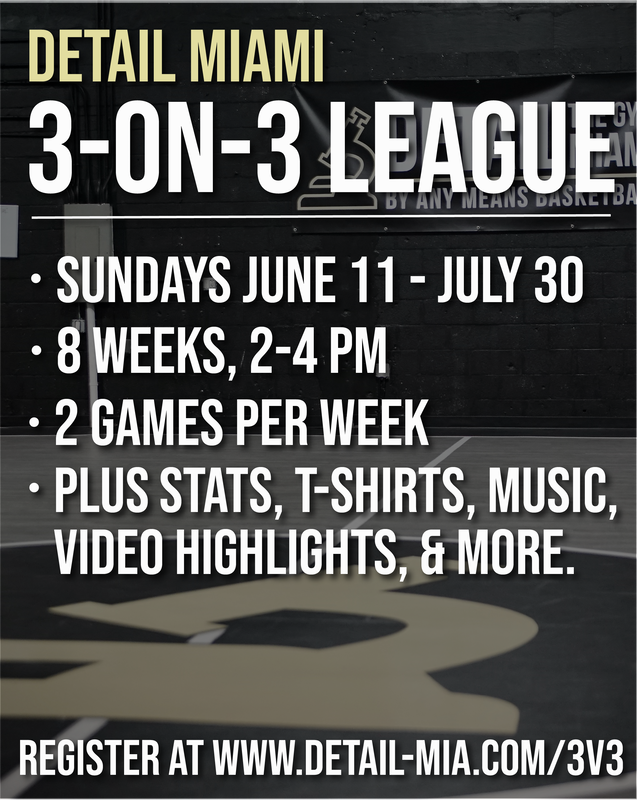 COMPETE & ENJOY HOOPS WITHOUT THE B.S.
We know how hard it is to find good hoops sometimes. Plus, who doesn't want to compete in a real league with solid competition and real wins and losses? When you combine both of those, and add in a brand new gym at a central location, you get the DETAIL Miami 3v3 League. ​We wanted to make a switch from the standard league and go 3v3. This makes for higher quality games, more intense competition, and overall more fun because of how quick it moves! Plus, it's a lot more manageable and the league will be much more exclusive. Overall, a great switch from your standard league. NEW DATES: June 19th - August 7th
WHAT YOU GET:
2 full games per Sunday.

8 Sundays of games (6 regular season, 2 playoff tournament).

Statistics kept.

DETAIL 3v3 official t-shirt.

DJ, music, and good vibes.

Complimentary treatment from our recovery specialists.

Media (photos, video content, and more!).
OUR RULES:
Games to 21 or 25 minutes running clock. - Referee at each basket. - Up to 15 points, loser ball. At 15, winner keeps ball on a made basket. - Standard (non-NBA) three-point line. - 3 subs are allowed per team. - Fouls are check up until the 8th team foul (one free throw on a shooting foul afterwards).
Hours
Rentals available 24 hours a day, every day. ​Training runs from 6am to 10pm daily.
Contact
Phone: +1 202)355-5221
Email: [email protected]
Location: 16410 NW 54th Ave, Miami Lakes, FL 33014
Copyright © 2022 Detail Miami. All rights reserved.